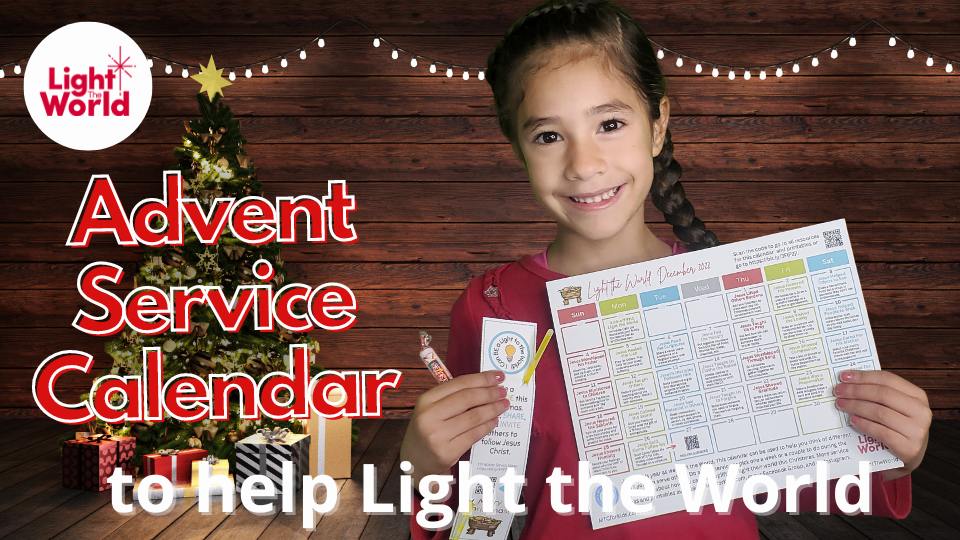 How can you BE a light to the world? We have created a video for you to help teach your family be a light following Elder Stevenson's General Conference talk called "Love, Share, Invite." In the video you will also see a sneak peek into our BRAND NEW video series for Come Follow Me that will be coming in 2023. You can watch the full episode here.
Watch the video below for Family Home Evening night on November 28th and then get ready to Light the World with love and service.
Light the World December Advent Calendar
We have created a simple calendar for you to use to help you BE a light this Christmas! This was inspired by our most popular Light the World calendar we did years ago with a bit of a facelift. You can pick one service to do during December, daily, or weekly. You decide how to best Light the World. Be prayerful as help serve others this year.
We have also included a handout that you can give to your kids or primary children. It can be used as a bookmark as they study the life of Jesus Christ next year for Come Follow Me. It says, "'I can be a light to the world.' Be a 'Smartie' this Christmas. Love, Share, and Invite others to follow Jesus Christ." Cut and attach a glowstick to the handout with a smartie candy to invite the children to light the world. Pass out the calendars with it.
To download the calendar and handouts, click the image below, then add your email address to join our community for free. The printable will automatically pop up after you subscribe.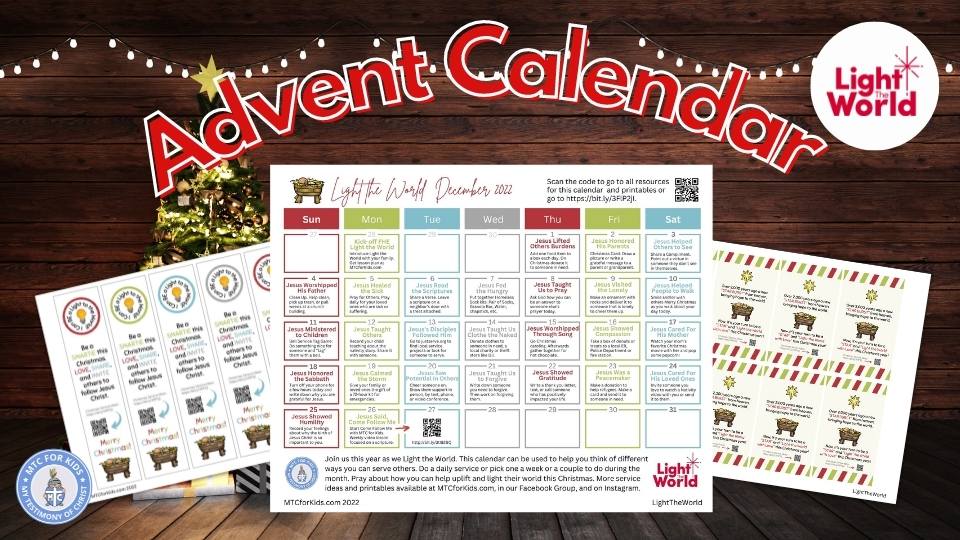 Daily Scripture, Song, Activity, and Treat
The calendar above coordinates with our most popular Christmas Product our Advent of Christ that was featured in one of the first Light the World events. You can download the tags and make your own Advent Calendar with treats, scripture, video, and activity. There are two coordinating booklets: one for parents to help teach the mini lesson each day and a child's workbook. You can pick them up in our shop below.
Get 25% off our Christmas Collection (offer good 11/18/22 until 12/3/22) use coupon code SAVE25 or just click on the button below!
FREE Advent Cards & Tags
Join our Facebook Group and get the cards and tags for FREE or you can purchase them in our Etsy Store here. Included on the tags is a song, scripture, and service idea. Inside of the pockets you can add a treat. You ca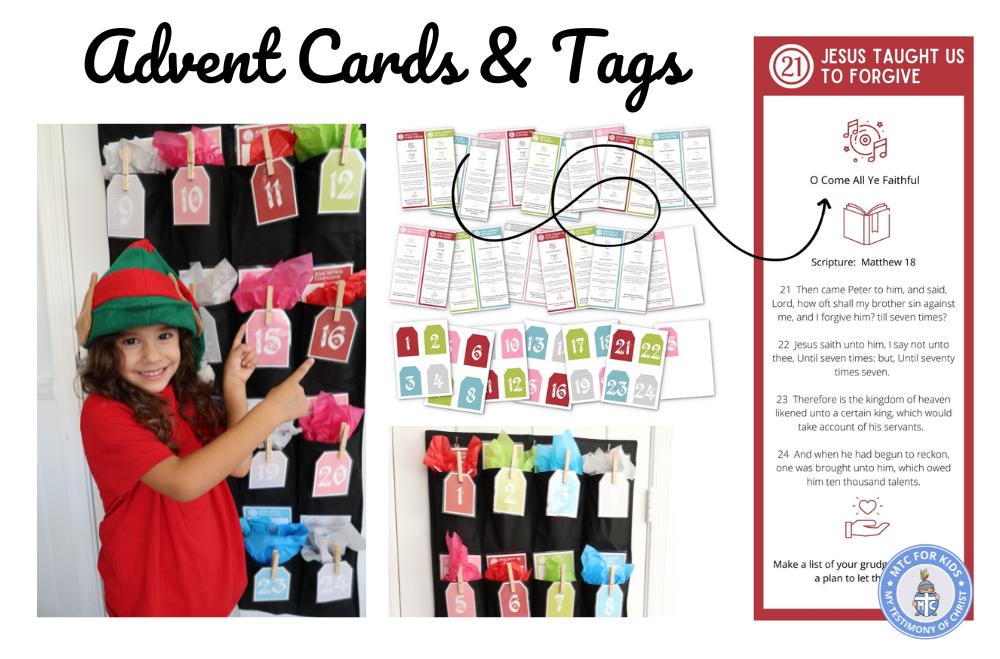 Below is a really old video where I explain the Advent Calendar. If you haven't used it before, this is a great place to start! I can't believe how small Charlie was.
Share this Nativity Video
We mention the video below above. We created this last year along with 100 children from around the world. This is a great video to share with a neighbor as the kids tell the story found in Luke 2.
List of Service Activity Ideas
Need more ideas? Here are a list of past Light the World blog posts. There are also more ideas at LightTheWorld.org and the official Light the World video below!!
Flash from the Past Christmas Printables
Other Blogger Ideas