Join us for Stake Women's Conference!
It will be held on Saturday, September 23, 2023 at the San Tan Heights building. The address is 32584 North Gary Road (behind Walmart, click here for map directions). We will be meeting in the chapel so please wear church dress. It will begin at 9:00am. We are excited to learn together how we "Claim the Powers of Heaven." Patti Rokus, former member of the General Primary Board will be our guest speaker as well as President Sandy Carder and Melia Rios-Lazo.
Patti Rokus was featured on the church's Friend to Friend broadcast and on their Gospel for Kids with a series of rock art for the Old Testament.
Following the speakers, we will gather in the cultural hall for lunch and a rock art activity. Bring a friend and a neighbor! Mark your calendars, you don't want to miss it!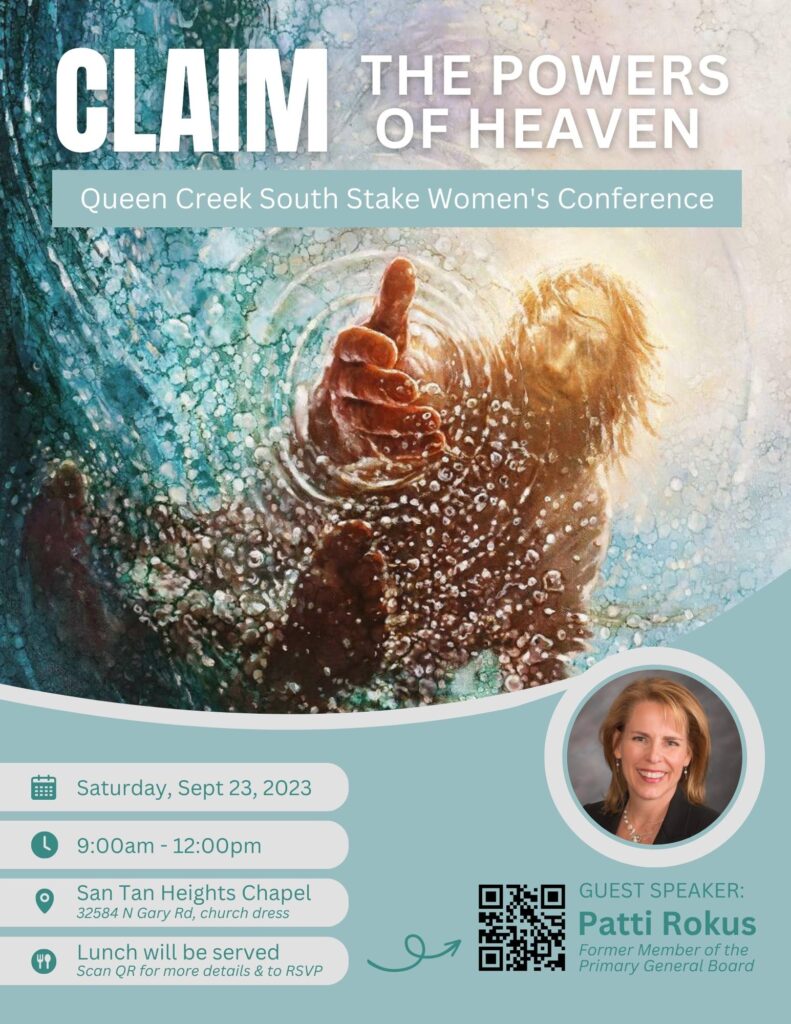 Service Project
Did you know you can access Just Serve to find a local service project for your ward, school, or family? We are excited to invite you to help us collect food for "Father McGivney's Food Bank." Check back soon for details.
Invite a Friend
Invite a friend or neighbor! Just click on the flyer above, save it to your phone, and text it to a friend.
RSVP for Lunch
Please RSVP for lunch if you are planning to attend. If you forget to RSVP, no problem, PLEASE still come! Just click this Google Form or the button below and let us know if you will be there!
Prepare for Conference
As a Stake Relief Society Presidency we would like to extend an invitation to you to pick one or do all three of the following activities to prepare your heart and mind for Women's Conference.
Watch the talk below from a Worldwide Devotional by President Russell M. Nelson.
Attend the Temple with us on Thursday, September 21st for the 7pm Endowment Session or attend the temple anytime on the week of Conference September 19 to the 22nd. Schedule your appointment here.
Memorize the scripture found in Helaman 5:12.
We can't wait to see you!
Sandy Carder, Carol Young, Melia Rios-Lazo, and Christie Gillman
Website Powered by MTCforKids.com 2023