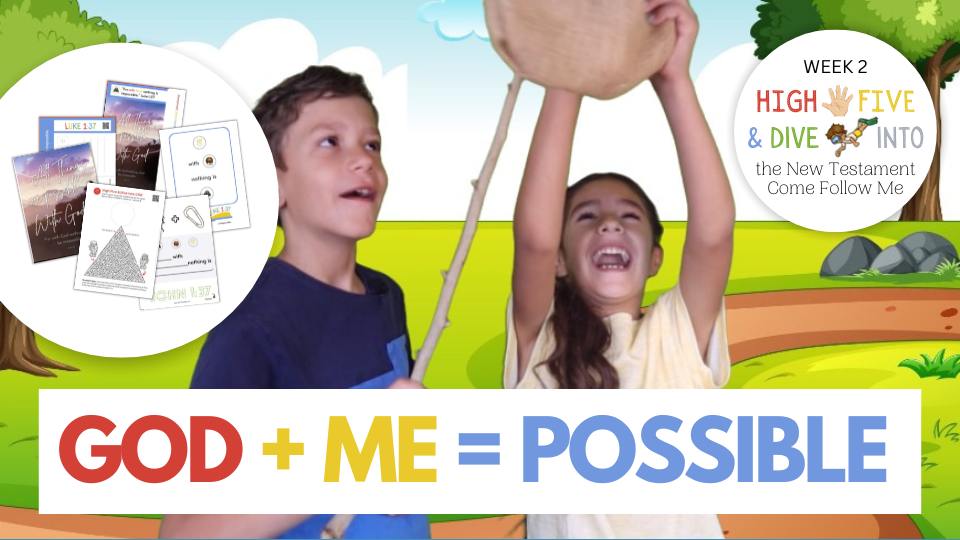 High Five and Dive into the New Testament with MTC for Kids! Find out what inspired our Come Follow Me series this year and set up your own home or primary class Come Follow Me Circle Time Boards!
This Week's Video Lesson
Gather the entire family and watch the video lesson we have created for you focused on Luke 1:37 "For with God, all things are possible."
Extra Resources: Setting Goals
This week in our video lesson we talked about how with God all things are possible and that includes setting goals and achieving them. Kick-off the New Year by setting goals to help you follow Jesus Christ and grow!
Watch the video below and download our free tracker to get started.
Goal Program Printables
Pick up our Setting Goals Kit which includes worksheet pages, signs, and medals to keep the kids motivated. I love attaching them to a corkboard in their room so they don't forget to work on it, but you can use the printable anywhere like in a notebook, poster board, or just tape it to the wall. Your kids are going to love it!
Click HERE to purchase for just $3 on sale right now!
Free Printable
Here is your FREE Printable! A Medal Count Tracker! Your kids are going to love keeping track of their progress with this fun tracker. Don't forget to pick up the other coordinating pieces in our shop while it is on sale!
HERE is YOUR FREE PRINTABLE just click on the image to download the PDF file. Just add your email to subscribe and the download will pop up! We would love to have you share your child's progress on social media and tag us @MTCforKids and Don't forget to join our Facebook group today!
Scripture Club
Join our Scripture Club today and we can download the Activity Book that goes along with the episode above. Get an activity card each week that coordinates with the lesson. It is available digitally or printed and mailed to your door! When you sign up for our monthly Subscription you will get this episode for FREE! We will also give you our Getting Started Guide so your kids have access to all of the memory ideas, how to use the Scripture Club, Cipher Code, Scripture Calendar and more!
Join our Patreon Scripture Club today!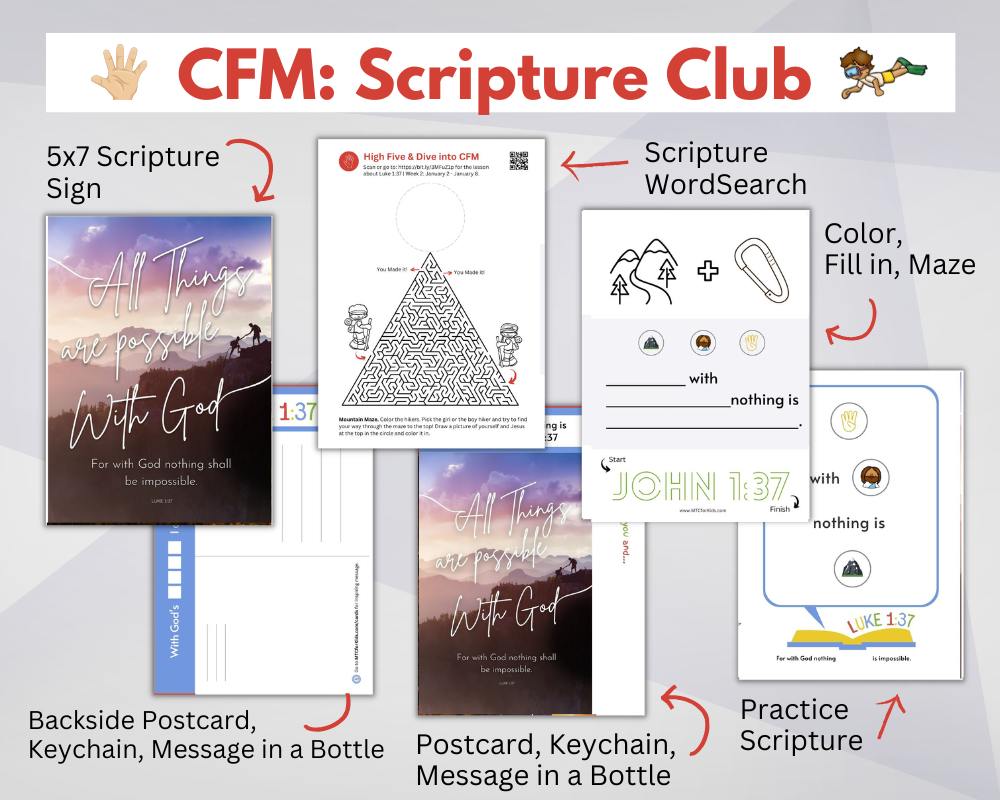 High Five and Dive Resources
Use our High Five method as you work through this week's lesson focused on the scripture from the reading block, Luke 1:37 "For with God, all things are possible." Just click on the image to go to the resources or videos: Pray, Song, Video Lesson, Memorize, and Ask Questions.
This Week's CFM Favorites Playlist
Here are some of Charlie and Abbie's favorite Come Follow Me videos to watch. They love to watch them on Sundays. We are grateful for all the talented people that are sharing their talents and helping us better understand the scriptures.
This Week's Lesson from the Church
To access the full lesson from The Church of Jesus Christ of Latter-Day Saints click here. The scriptures are: Matthew 1 and Luke 1.