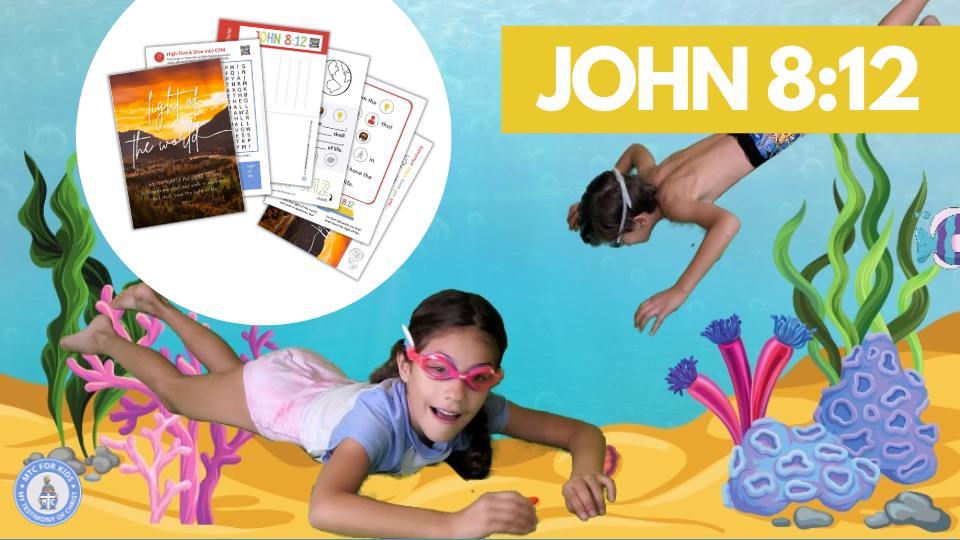 High Five and Dive into the New Testament with MTC for Kids! We are excited to have you join us each week as we share a simple and easy way to participate in the Come Follow Me lessons at home or in primary. Go to "How to Set Up Come Follow Me" to find out how it works and to get your digital New Testament Kit.
Let's "DIVE" in!
Let's begin by following our High Five method as you work through this week's lesson focused on the scripture from the reading block, John 8:12 "I am the light of the world: he that followeth me shall not walk in darkness, but shall have the light of life."
1. Pray
Don't forget to start with a prayer! We need the Holy Ghost to help inspire and teach us. Check out our blog post and video about prayer to help your children understand how and why we pray.
2. Primary Song
Sing together as a family this week's primary song: "Teach Me to Walk in the Light." Nothing brings the spirit into a home or primary class quite like music does. Just play and sing-along. If you would like additional help learning the song, you can download our chalkboard visuals below.
3. Video Lesson
Gather the entire family and watch the video lesson we have created for you focused on John 8:12 "I am the light of the world: he that followeth me shall not walk in darkness, but shall have the light of life."
4. Practice Memorizing the Scripture
Join our Scripture Club to help your kids memorize and get the most out of Come Follow Me this week. Click on the button for details.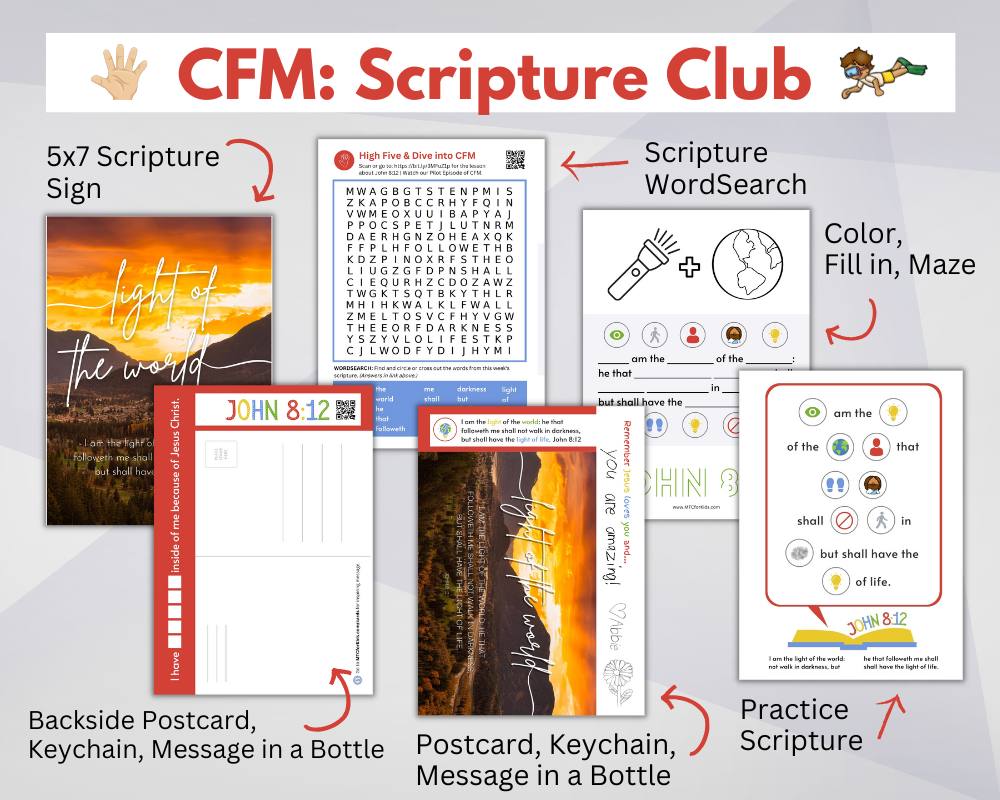 5. Ask a Question
Engaging with your children after this week's video lesson is a great way to connect with your children and help them remember the scripture and what it means. Here are a couple questions you can ask or come up with your own . This is also the perfect time to help your child feel and recognize the spirit, here is a lesson help about the Holy Ghost.
If you have our Come Follow Me Family Board, you can talk about the Fruits of the Spirit and what they learned this week from the video lesson. Bare your testimony of what this scripture means to you and what you know to be true.
How do you feel about this scripture?
What do you understand about the meaning of this scripture?
What new word did you learn about in this scripture?
What image or picture comes to your mind when you repeat this scripture?
High Five, You Did It!
That's it. Give everyone a "High Five!" You finished the Come Follow Me lesson for the week focused on a scripture from the New Testament. Practice this scripture everyday until everyone can repeat the scripture. To learn about our Memorizing Scripture System, watch the video below or go here. There are tons of great videos online for this week's lesson. Here is a playlist with our favorites!
To access the full lesson from The Church of Jesus Christ of Latter-Day Saints click here.